Uh oh! It looks like the seat has already been purchased for / Wednesday, March 29 - 6:56 AM. Try removing it from your cart to find a new seat. Sorry for the inconvience.
Uh oh! It looks like your card was declined. You can try again using a different card or trying again with the same card.
Uh oh!
Uh oh! It looks like your card was declined. You can try again using a different card or trying again with the same card.
We're sorry but there was an unexpected error (Code 100). Please try purchasing tickets again. If the error continues, please contact Ludus support via support@ludus.com and report error code 100.
Uh oh! It looks like there are only seats left for / Wednesday, March 29 - 6:56 AM
22-23 Preview Membership
$125.00
You'll receive a code once you purchase your pass that can be used for the available events (good up to 6 tickets).
Attend the final preview performance of our 6 productions, the Thursday before opening night $125 - 1 ticket to each final preview performance of the 6 mainstage productions No handling fees or processing charges
A Swinging Christmas: The Holiday Music of Tony Bennett
Thursday, November 17, 2022

@ 7:30 PM
Sold Out
The Great Leap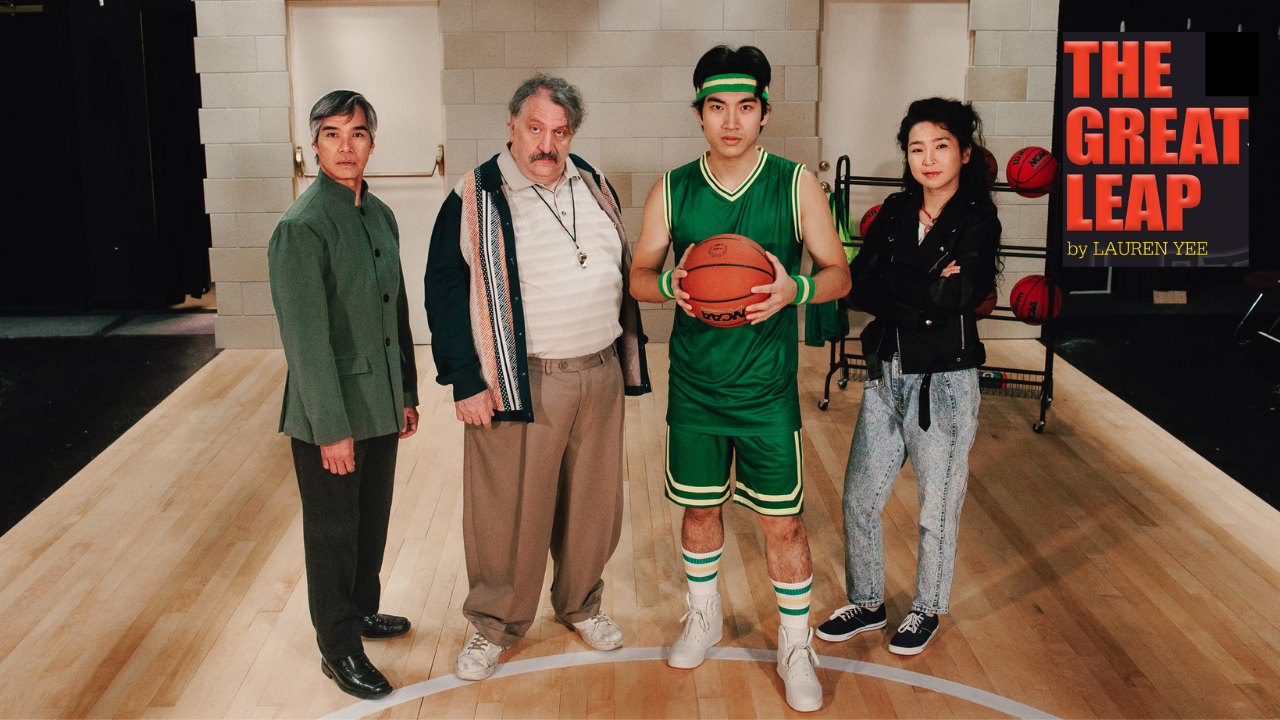 THE GREAT LEAP
written by LAUREN YEE
Now Playing: JAN 27 through FEB 12 Thu / Fri / Sat 730pm Sun 2pm
Contains adult language and mature themes. Recommended for ages 16 and up.
The year is 1989. An American college basketball team travels from San Francisco to Beijing for a "friendship game" against a Chinese squad.
Far from friendly, the matchup quickly becomes a high-stakes battle, as the American coach fights for his reputation and his Chinese counterpart fights for his life. Both countries try to tease out the politics behind this newly popular sport.
Cultures clash as the Chinese coach tries to pick up moves from the Americans and Chinese-American player Manford, spies on his opponents.
Caught in the middle, Manford must prove his mettle on the court while unraveling a long-kept secret. Cultures and generations clash in this kinetic, darkly comic sports drama.
Inspired by events in her own father's life, playwright Lauren Yee applies a devilishly keen satiric eye to…her generation (and its parents).
"Full-court banter and intensity mark a gripping 'Great Leap!'" - The Washington Post
"'The Great Leap' scores with a mix of hoops and heartbreak." - Los Angeles Times
"The conceit of Lauren Yee's 2018 play The Great Leap, currently in production at Farmers Alley Theatre in Kalamazoo, is brilliant. Part fiction, part global history, part autobiography, it speaks to uniquely immigrant experiences through four characters and an imagined set of circumstances amid a very real, vivid historic moment.
...
It's a somewhat unusual story, especially for West Michigan, a place where Asian-American, much less Chinese-American, tales are rarely found on stage; and it's in good hands at Farmers Alley, a theatre that walks the talk of presenting the diversity of human experience, guiding its audience to take an all-important leap beyond the usual fare." - Marin Heinritz, Revue West Michigan
Farmers Alley Theatre
221 Farmers Alley, Kalamazoo, MI 49024
Box Office: (269) 343-2727
The joy of live theatre. Together.
Thursday, January 26, 2023

@ 7:30 PM
Sold Out
Becoming Dr. Ruth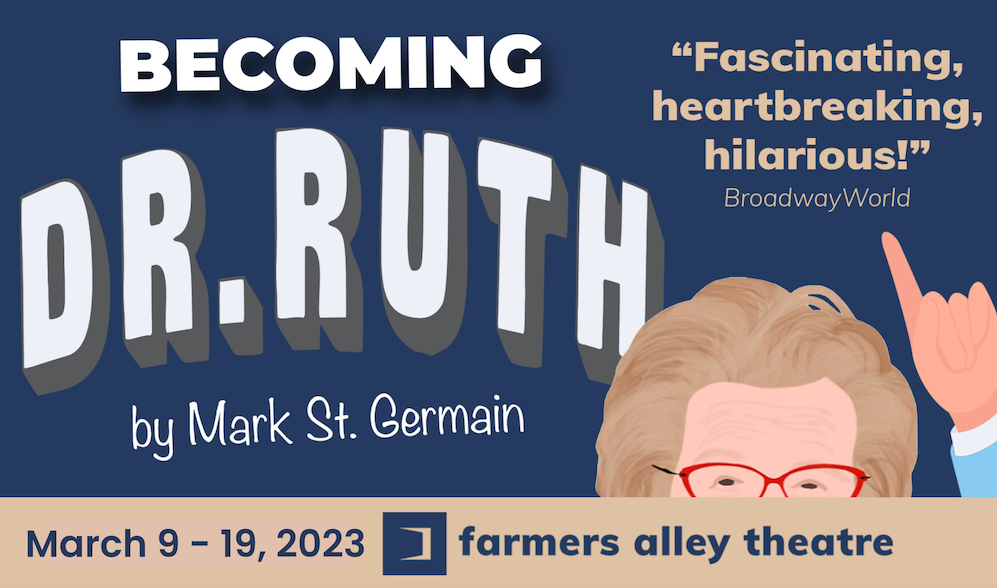 BECOMING DR. RUTH

written by MARK ST. GERMAIN

LIMITED RUN: MAR 9 through MAR 19 Thu / Fri / Sat 7:30pm; Sat 3/18 and Sun 2pm

Contains adult themes.

Yes. That Dr. Ruth! It is 1997 and pioneering radio and television sex therapist Dr. Karola Ruth Siegel is packing up her apartment in Washington Heights. As she does so, she shares the fascinating and moving events that led her to become America's most famous sex therapist.

From fleeing the Nazis in the Kindertransport and joining the Haganah in Jerusalem as a sniper, to her struggle to succeed as a single mother newly arrived in America, Ruth's astounding true story is full of moments of heartbreak, hope, and triumph.

Farmers Alley Theatre is excited to welcome back Kathy Mulay (Bright Star, A Gentleman's Guide to Love and Murder) to direct this production. Becoming Dr. Ruth stars Diane Wasnak in the titular role. Diane has performed professionally all across the country and made her Broadway debut in Busker Alley starring Glenn Close. Diane also starred in Mystère for Cirque du Soleil. She is internationally renowned for her mime and movement work and as part of the first American female circus clown duo.

Written by award-winning playwright Mark St. Germain, you'll surely be moved by this life-affirming (and a little bit sexy) one-woman tour-de-force of a play!

"Fascinating, heartbreaking, and hilarious!" - Broadway World

"[Dr. Ruth's] story is certainly a stirring one…[and this is] an illuminating portrait." - NY Times
Thursday, March 9, 2023

@ 7:30 PM
Sold Out
Chicken & Biscuits

CHICKEN & BISCUITS
written by DOUGLAS LYONS
Playing: APRIL 21 through MAY 7 Thu / Fri / Sat 730pm Sun 2pm
America's dishiest family is coming together for Grandpa's funeral — hopefully without killing each other! Hot off this hysterical and heart-warming play's run on Broadway in 2021, we are thrilled to present the Michigan premiere of CHICKEN & BISCUITS.
When a family secret reveals itself at the altar, two sisters, Beverly and Baneatta, are faced with a truth that could either heal or break them. It's a charming, fast-paced comedy full of love, a little shade, and really good dish.
Variety Magazine exclaimed this play is "Laugh out loud funny! A feast of Black joy, love and laughter."
TICKETS ON SALE 3/10/23
Thursday, April 20, 2023

@ 7:30 PM
Sold Out
RENT

RENT
music, book, and lyrics by JONATHAN LARSON
Playing: JUNE 23 through JULY 9 Thu / Fri / Sat 730pm Sun 2pm
Contains adult language and mature themes. Recommended for ages 15 and up.
Set in the East Village of New York City, Rent is about falling in love, finding your voice and living for today. Winner of the Tony Award for Best Musical and the Pulitzer Prize for Drama, Rent has become a pop cultural phenomenon. with songs that rock and a story that resonates with audiences of all ages.
Based loosely on Puccini's La Boheme, Jonathan Larson's Rent follows a year in the life of a group of impoverished young artists and musicians struggling to survive and create in New York's Lower East Side, under the shadow of HIV/AIDS.
This is theatre at its best – exuberant, passionate and joyous.
TICKETS ON SALE 4/21/23
Thursday, June 22, 2023

@ 7:30 PM
Sold Out